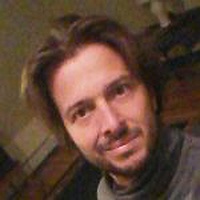 Role: Associate Professor
Short Biography
Paolo is an Assistant Professor in the Integrated Photonics Lab (previously "Quantum Electronics Lab") since 2008. He was previously working as a consultant at Pirelli Labs, and as a Ph.D. student at University of Pavia in the period 2002-2005. He got his PhD degree in 2006 with a thesis on optical devices for next-generation optical networks. Starting since 2007 a large art of his research activity has been dedicated to the design and characterization of microfluidic systems using optical forces as a tool for manipulation, testing and sorting of samples. He took part in different EU project and managed the local unit of EU project NISTAS in the frame of FP7.
During the years Paolo created strong collaborations with different Universities and centers in different part of the world, including Paderborn University, Stanford University, Hebei University of Technology, King Abdullah University of Science and Technology, Optical Research Center Southampton, Tufts University, Harvard University and Massachusetts General Hospital.
Paolo is a Senior Member of The Optical Society (OSA) and acts both as an international traveling lecturer for OSA and as an Associate Editor for Optics Express.
Paolo is also an Editorial Board Member of Scientific Reports.
Download Full CV
Research Interest
• Optical Communication Systems
• Semiconductor based Photonic Integrated Devices
• Nonlinear Photonic Signal Processing
• Optofluidics & Acoustofluidics
• Biophotonics & Biocompatible Photonics
• Optical Trapping & Stretching
Selected Publications
P. Minzioni*, A. Schiffini "Unifying theory of compensation techniques for intrachannel nonlinear effects" Optics Express, Vol. 13, No. 21, pp. 8460-8468, October 2005 
C. Liberale, P. Minzioni*, F. Bragheri, F. De Angelis, E. Di Fabrizio, I. Cristiani "Miniaturized all-fiber probe for three dimensional optical trapping, manipulation and analysis" Nature Photonics, Vol. 1, No.12, pp. 723-727, December 2007
T. Yang, F. Bragheri, G. Nava, I. Chiodi, C. Mondello, R. Osellame, K. Berg-Sørensen, I. Cristiani, P. Minzioni* "A comprehensive strategy for the analysis of acoustic compressibility and optical deformability on single cells" Scientific Reports Vol. 6, 23946, April 2016 
R. Marchetti, C. Lacava*, A. Khokhar, X. Chen, I. Cristiani, D.J. Richardson, G.T. Reed, P. Petropoulos, P. Minzioni, "High-efficiency grating-couplers: demonstration of a new design strategy"

Scientific Reports Vol. 7, 16670, November 2017 

 V. Vitali, T. Yang, P. Minzioni*"Separation efficiency maximization in acoustofluidic systems: study of the sample launch-position

"

RSC Advances, Vol. 8, pp. 38955–38964, November 2018 
Teaching (in italian)
Paolo Minzioni è attualmente responsabile dei seguenti insegnamenti:
A.A. 2019/2020
Esperienza didattica pregressa:
– Dal 2008 esercitazioni dei corsi di Fisica 1B, Fisica 1 e Fisica 2.
– Titolare del corso di Fisica 2 per Ing. Industriale durante l' A.A.2010/11.
– Titolare del corso di Fisica 2 per Bioingegneria dall' A.A. 2011/12 all'A.A. 2014/15.
– Titolare del corso di Fisica 1 per Ing. Elettronica ed Informatica per l' A.A. 2015/16.
– Titolare del corso di Fisica 1 per Bioingegneria e per Ing. Elettronica ed Informatica a partire per l' A.A. 2016/17
– Titolare del corso di Fisica 1 per Bioingegneria a partire dall' A.A. 2017/18.
– Istruttore subacqueo (M1 CMAS e Open Water Instructor NADD) a partire dal 2019